 There is a gap between life and death.
In "me – a tale of paws and leaves" the player experiences the tale of a fox named Me.
During the adventure, the player will confronted with the beautiful and joyful, but also with sorrowful and sad moments in the life of the fox. These moments were already happened, because they are memories.
Walking alone in the forest?
You don't need to experience your adventures alone: meet Ani the butterfly, your tiny but not less lovable ally. She is the best friend of Me, but sometimes she becomes a chatterbox. Nadine Most, a german voice actress in her spare-time, is giving Ani her voice.
Mystical seasons
Use your environment to find secrets or ways to new explorable areas. You even get mystical powers to take advantage of changing the seasons.
Me can either swim in the lake… or walk on the lake.
Discover the forest.
The atmosphere invites you to lose yourself in the depths and find your way to new adventures of ME. The pieceful music tracks for the game are made by Clement Panchout, a music composer from France.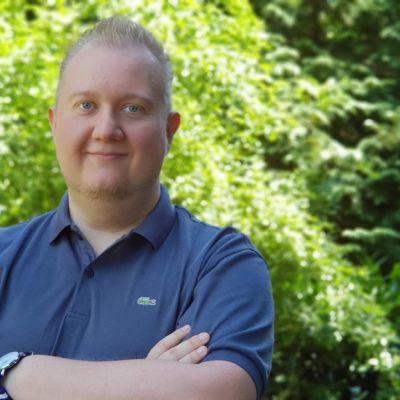 Florian Haase
CEO, Game Director
My name is Florian Haase and I am the creator of this project. Besides all this I am finishing my master studies at the HAW Hamburg. I am working part-time as a game designer in the field of serious games and gamification at the BIBA – Bremer Institut für Produktion und Logistik GmbH. My main motivation for starting this private project in July 2017 was to create a game which visualizes my idea of a new style for dealing with challenging topics like death and distressing experiences in childhood.
Clement Panchout
Composer / Music
History.
Everything started in July 2017. The project was named "project phuks". In October 2017, I finished the first prototype and went public in northern Germany at the genial-verpLANt local area network party. The kind words and lovely feedback from the testers were a big motivational push to keep on doing the project. I decided to work on the game further. In spring 2018, Me got his name, the project got his name. One big milestone I reached in July 2018 with the submission of the second prototype to the PLAY18 festival.
Events.
12.04. – 14.04.2019 @ genial verpLANt #26 (Brake, Germany)
20.08. – 24.08.2019 @ gamescom (Köln, Germany) (not save)
11.10. – 13.10.2019 @ genial verpLANt #27 (Brake, Germany)
Mailing-List.
If you want to get updates about the game, you can subsribe to this mailing-list.